Customers rely on Genesis' experienced production team and precision CNC machining capabilities to produce precision medical device components directly from stock shapes.
Basics of Machining Medical Plastics
Machining has been used to make precision components from plastics for many decades. Over time, advancements in equipment and tooling technology have allowed the production of plastics components with far more precise dimensions and extremely high-quality surface finishes. Both these benefits are especially important when machining biocompatible plastics for medical devices.  
The plastic machining process involves milling or cutting a three-dimensional design from a thermoplastic "stock shape." The shape is typically in the form of an extruded rod or a plate. Virtually any thermoplastic material can be melt-processed by extrusion into stock shapes.
Genesis routinely produces rod and plate by extrusion in numerous sizes from a variety of biocompatible polymer formulations that our customers supply. We then transfer these shapes to our machining operation or ship them to customers for production of finished components.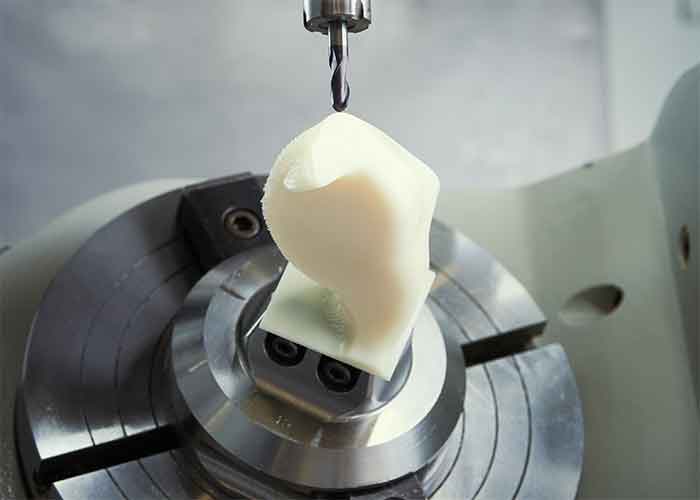 Developments in Machining Technology
Machining equipment and tooling technologies have evolved significantly over the decades. Today, Genesis' best-in-class machining capabilities routinely produce complex medical device components with flawless consistency and better economics than prior technology allowed.
Advancements include CNC (Computer Numerical Controlled) machines that ensure repeatability from part to part and from one production run to the next. The five-axis tools that Genesis uses also make it possible to produce components with intricate designs and features that previously required multiple production or finishing steps.    
Benefits of CNC Machining
Genesis' CNC Machining Capabilities
Genesis believes converting customers' medical grade plastic stock shapes into medical-quality components requires best-in-class technology.  We apply this thinking to our investments in tooling, CNC machines and control systems.  Our skilled machinist-programmers enhance these equipment capabilities with years of experience in machining a wide array of medical grade polymer stock shapes.  
Best-in-Class Machining Equipment and Expertise
Genesis invests in the most current machining technology to support the health care industry's high standards for quality and consistency. Capabilities include 5-axis CNC milling and Live Tool equipped lathes.  Polycrystalline diamond (PCD) tooling assures components from Genesis have the optimal surface finish and tightest tolerances that can be achieved.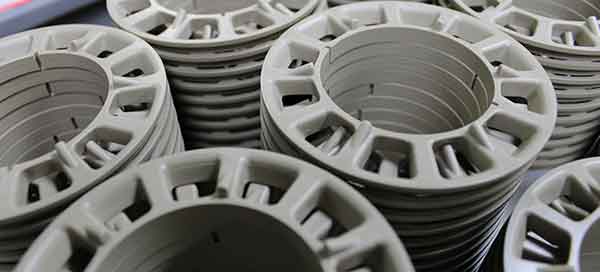 Capacity investments for Flawless Service and Dependability
Genesis works closely on supply assurance with our customers. Beyond routine order scheduling, planning includes maintaining capacity to respond to unforeseen requirements. It also leaves room for fast turn-around on prototypes. Staying ahead of expectations characterizes our investment plan and reinforces our commitment to unparalleled customer service.
Comparing Machining and Injection Molding
As a general practice, machining is ideal for low production quantities that do not justify an investment in injection molding tooling. Conversely, injection molding allows efficient production of high quantities.
Production Turn-around Time
Ongoing developments in CNC machining equipment have led to a steady improvement in production times for single components. Also, five-axis tools in this equipment perform several operations sequentially. They yield finished components with complex configurations very rapidly. Genesis invests in the best in class among these machining technologies to provide customers fast and dependable turn-around times. 
By comparison, injection molding affords faster production times for single components and can yield several parts from multi-cavity molds in a single cycle.  Once quantity requirements reach a threshold that justifies the tooling investment, Genesis works with customers to transition the component seamlessly to our injection molding operation. Our collaboration includes tool design and building final production tools. At this stage, our customers often evaluate design improvements that may afford greater functionality and production efficiency.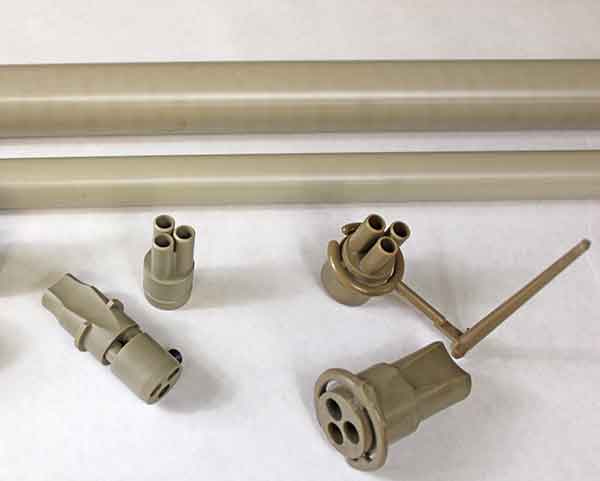 Material Cost Differences
Material costs also differ for the two production methods. Machining involves milling or cutting away the thermoplastic material from a rod or plate "stock shape" to produce a component. Some material loss results. Injection molding produces parts to the design configuration. Minimal material loss occurs in the form of "runners" that channel melted polymer to the mold cavities.  As a result, material cost typically runs higher for machined parts.
Material loss with machining can be minimized by starting with a rod diameter or plate thickness that corresponds closely to the dimensions of the component. Genesis' capabilities offer the versatility to extrude customers' polymer formulations into the most efficient rod and plate sizes to keep material costs that optimize cost efficiency.
When to Transition from Machining to Injection Molding
Production quantities determine when to invest in injection molding tooling. Typically, the cost is amortized over a medical device component's life cycle. Tooling to produce the same machined component is relatively inexpensive.  This makes machining ideal for applications that will remain at low quantity levels, or as they ramp up slowly to a quantity that makes injection molding tooling economically viable. 
Combining Molding and Machining for Complex Designs
In some cases, injection molding alone cannot achieve the complex design features required in a component. At the same time, machining alone may be cost-prohibitive for the quantities required.  In such cases, Genesis can combine the benefits of both processes by injection molding components, then post-machining the required design features.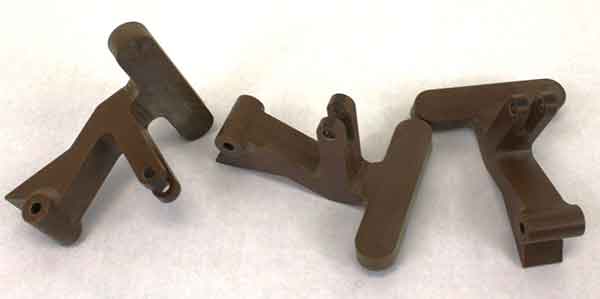 Near Net Shapes: A Cost-effective Bridge from Machining to Molding
Genesis offers near-net shapes as a transition step to molding when machined part quantities increase but remain below levels that merit the cost of precision injection molding tools. These approximate-sized "blanks" are molded in tooling that costs far less than precision production molds. The near-net blanks are then finish-machined quickly and economically  to the component's exact dimensions. This secondary machining step also allows complex design features that can't be produced by injection molding alone.
An effective transition step to molding for many customers, near-net shapes can yield precision components with minimal material loss compared to machining from rod or plate. Molding as the primary process also facilitates faster turn-around times. This helps meet on-time deliveries for growing demand as it ramps up to levels that justify the expense of a full production mold.
For more information on near-net shapes for your application, contact Genesis.
How Extrusion Expertise Translates to Machining Quality
Genesis was built on decades of experience in extruding stock shapes from wide array of polymers and special formulations. Customers recognize our ability to extrude formulations with very high additive levels.
We characterize our customers' polymer formulations' melt behavior in our lab. This helps define the equipment setup, tooling and extrusion conditions that are ideal for each material.  Our control systems then precisely monitor and maintain ideal process conditions for each polymer. These factors yield consistently high-quality stock shapes and minimize internal stresses that can cause rejects in machining and distortion in finished components.
Genesis also extrudes formulations with reinforcing additives like carbon fibers that add strength to a component. We understand how these fibers are oriented in the rods and plates we extrude. This allows us to position the shape during machining with the reinforcing fibers in the direction that gives the component the highest strength where it's needed most.  
Many customers for whom we extrude medical grade plastics formulations ask us to machine their components from these shapes. Our knowledge of how each polymer behaves during machining puts us in an excellent position to produce precision medical device components with optimum quality.
Genesis also offers machining technical support to customers or to the machining companies they select. Our extrusion and machining experience with custom polymer formulations can help shorten the learning curve and achieve consistently high-quality components.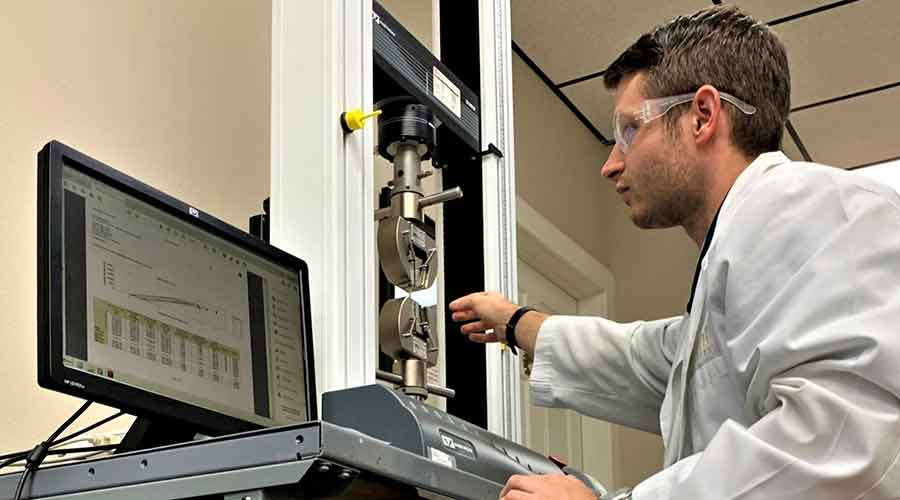 Added-value Services and Capabilities
Genesis offers several post-machining services to meet customer specifications. These include:
Laser etching for component identification
Precision-machined custom surface finishes.
Mechanical properties testing on ASTM specimens.
CT (Computerized Tomography) scanning to inspect for component integrity.
CMM (Coordinate Measuring Machine) dimensional inspection.
Post-annealing to optimize dimensional stability.
Ultrasonic cleaning and specialty packaging.
Lot and batch traceability.
Material and process certifications.
Consistently high quality defines Genesis Medical Plastics' approach to production. Our team works closely with customers to define their quality requirements and our responsibilities for all components we machine from their medical grade polymer shapes. In line with medical industry standards, our quality system is certified to ISO 13485:2016 and meets FDA 21 CFR part 820. Genesis also supports customers who require compliance to EU and other regulatory bodies.