Genesis' support capabilities range from developing machinable shapes and components from customers' medical polymers and custom formulations to simplifying the supply chain for their medical devices.
Genesis Contract and Support Services Accelerate Project Timelines and Improve Efficiency
Beyond our production of machinable shapes, precision components and PEEK film, Genesis Medical Plastics' versatile capabilities and customer-centric team can also deliver a portfolio of beneficial custom services for medical device manufacturers.
Our versatile state-of-the-art capabilities give Genesis the ability to melt-process a broad spectrum of medical grade polymers into the extruded shapes, calendered PEEK film and injection molded components products our customers require.
When highly specialized proprietary polymer formulations are involved, Genesis will undertake development projects with customers on a contract basis to define ideal process conditions and equipment modifications that yield optimum product performance and quality when converted into shapes or components.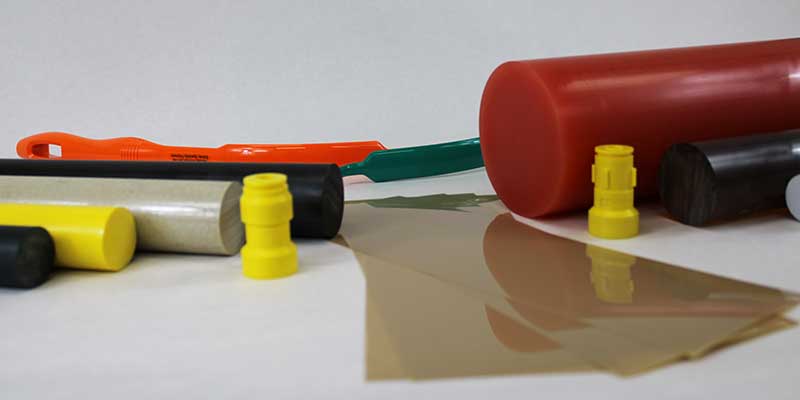 Genesis also offers post-production services and specialized operations for the products we extrude, injection mold or machine for our customers.  Taking advantage of these capabilities within our facility at the point of production can benefit medical device manufacturers by saving time and cost of manufacturing and assembly.
Does Genesis Extrude New or Proprietary Medical Polymer Formulations?
Decades of experience with numerous polymers places Genesis in a unique position to develop melt process parameters for converting even highly filled proprietary resin formulations into extruded shapes that maintain optimum quality and physical properties. Customers know they can count on our expertise to convert their unique materials into the rod and plate required for consistently high quality machined medical device components.
A notable example is the development work Genesis undertook on a contract manufacturing basis for a major resin manufacturer who required machinable shapes made from a new medical grade polymer. The shapes were needed to produce machined components made from the polymer to validate its the performance in new applications. Genesis developed melt processing conditions and designed equipment enhancements that yielded rod and plate with consistent quality and dimensional stability, the clean aesthetics necessary for medical applications, and performance in line with the resin's data sheet properties.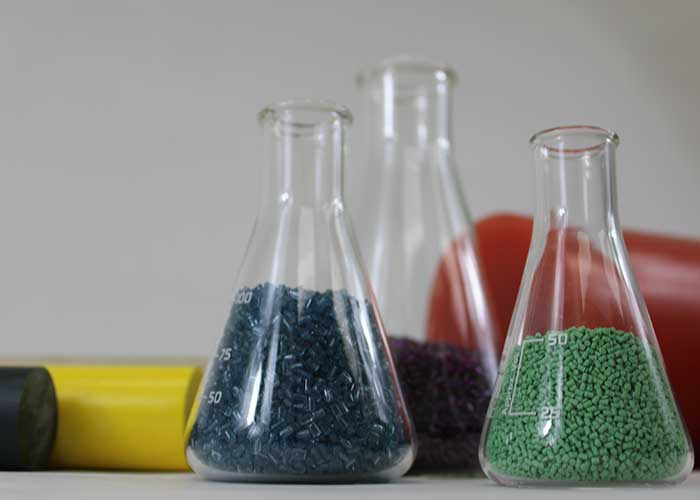 Today Genesis produces and maintains an inventory of rods and plates made from the medical polymer, labels, packages and ships them to the resin supplier's customers, and provides full traceability in accord with quality management protocol.
While not all our customers require this range of services on a project, it demonstrates our capabilities and the flexibility and customer service culture that characterize Genesis.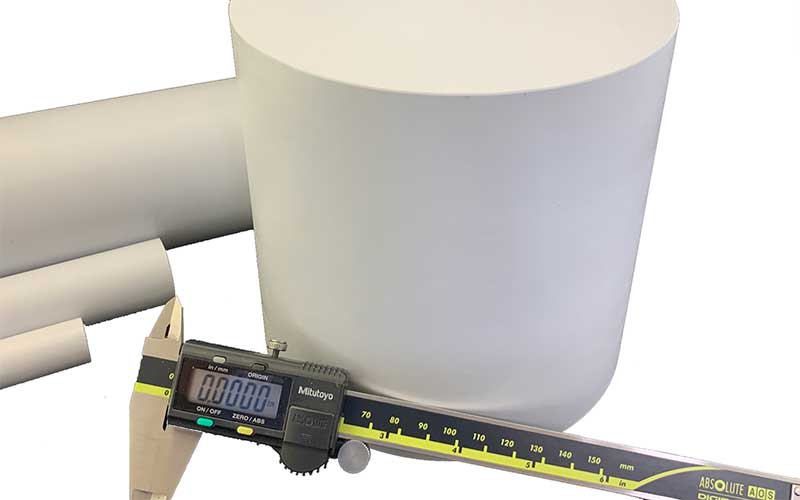 The complexities of medical device manufacturing involve many processes and steps. While some are essential for the OEM to keep in-house for proprietary or regulatory reasons, others may be more beneficial to source to a trusted and capable supplier. This is particularly the case when a supplier has invested in the technology and expertise as a business fully dedicated to producing the required products or performing the needed services more efficiently than can the device manufacturer.
Genesis fills this role for medical device manufacturers who need a specialist to transform their implantable PEEK, proprietary polymer formulations or other medical grade polymers into machinable rod and plate, film or precision injection molded components. It is an area where we excel and are recognized in the industry for our best-in-class melt-processing capabilities, our highly dependable service, and our commitment to confidentiality. It is also a resource that has been beneficial to many Genesis customers.
As an example of a custom tolling arrangement, the device manufacturer supplies Genesis with a specialized proprietary formulation or implantable PEEK resin from which components for a device must be produced. Genesis then converts the OEM's material into the desired form through one of our process technologies: extruded rod or plate in the most efficient sizes for machining specific components; calendered PEEK film; or injection molded components. We also provide the option of machining the components within our facility for efficiency vs. shipping the machinable shapes we extrude to the OEM or their sub-contractor.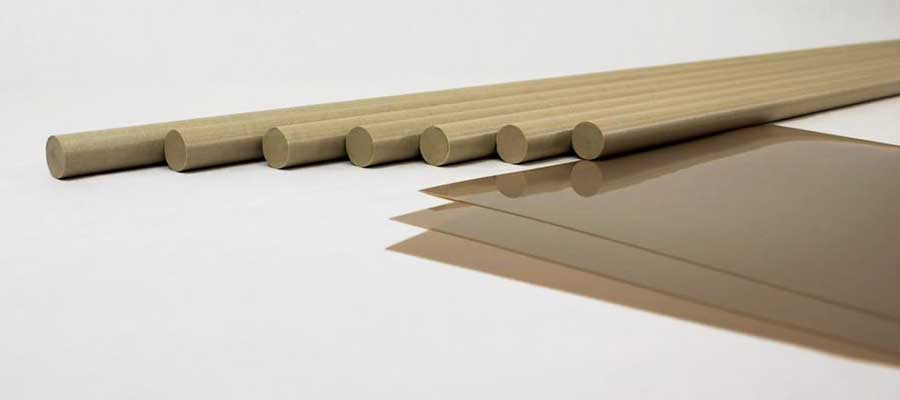 The tolling agreement typically involves Genesis carrying an inventory of the material to be processed, production of the desired product on a defined supply schedule, and a time-based contracted cost.
What Value-Added Operations and Services Does Genesis Offer?
Post-production services within the Genesis facility are available on a per-order basis, or under a longer term contractual agreement depending on what is most beneficial for the customer at any point in the medical device's life cycle. Genesis will also consider investing in the resources needed for special services on a contract basis where they can enhance efficiency and shorten production timelines for our customers. Examples of these value-adding services include:
Once injection molded or machined, Genesis can identify the finished component with identification codes as the device manufacturer requires. This can be useful in such areas as tracking for quality management or to facilitate scanning for identification during assembly.
Genesis offers ultrasonic cleaning as a service to meet customers' requirements for removal of Foreign Object Debris (FOD) for components we machine or injection mold.
Often it is far more efficient to add features or integrate parts into components immediately after machining or injection molding. Genesis has in-house capabilities for applying inserts and fasteners and other features to the components we produce, and we are open to working with device manufacturers to meet unique requirements where we can help improve efficiency and shorten production cycle times.
Customers sometimes request specialized packaging for components that we produce and ship to various locations for assembly into the final medical devices. Our team routinely handles custom requirements and also works with the device manufacturer to source specialized packaging materials and package configurations.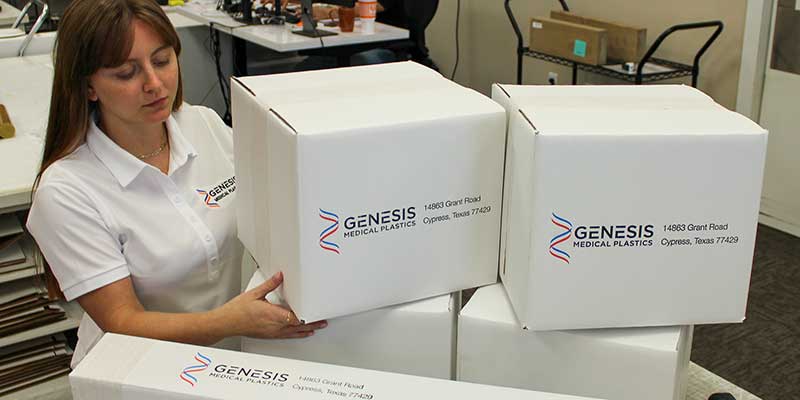 With operations near Houston, Texas, Genesis is well-positioned with excellent transportation resources to expedite shipments of components and assemblies to whatever locations our medical device manufacturing customers require.
How Does Genesis Help Expedite Medical Device Projects and Applications?
Our customers count on the Genesis team for our know-how in applications and regulatory requirements, technology and extensive production and operational capabilities. Taken together, these resources have proven valuable in shortening project timelines and adapting quickly and effectively as requirements change.
Polymer analysis defines ideal process conditions
In the initial stages of a polymer conversion project, Genesis can analyze the melt characteristics of the material. This step defines the production parameters that will yield optimum properties and quality during calendering of PEEK film calendering, extrusion of machinable shapes or injection molding of components.  
Prototypes demonstrate performance in the device
Prototypes machined in Genesis' facility are useful to demonstrate how a component will perform in the medical device and in the environment it must withstand, such as repeated autoclaving.  In some cases, our customers also utilize prototypes or have components made in short machining production runs for market testing.
In-house injection mold design, construction and maintenance
Genesis works with customers to optimize the design and construction of injection molds based on the specific polymer to be processed.  Our expertise in the melt flow characteristics of polymers helps deliver the appearance, low stresses and precise dimensions required. We also store and maintain our customers' molds so they are ready for production as needed.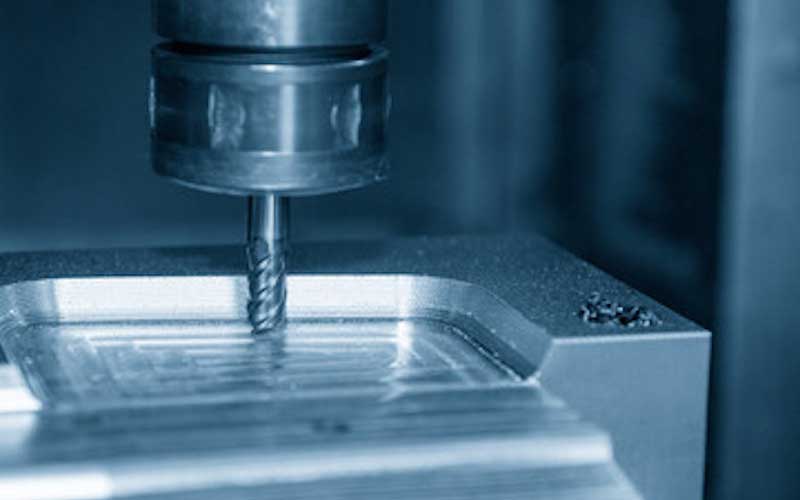 Production options to meet short and long-term demand
With versatile machining and injection molding capabilities, Genesis can meet the full range of quantity requirements through the entire life cycle of a medical device.  Our team also works with customers closely to recommend the most efficient method of production from the initial stages and as quantity requirements grow.
Value-added operations save time and cost
Post-production services range from laser identification to ultrasonic cleaning, assembly of components, special packaging and logistics. when required. These post-production services can shorten medical device production time and improve efficiency when performed as components are machined or injection molded in our facilities.