Implantable Film for Medical Device Manufacturers from Genesis PEEK Film
Genesis' developments in calendering technology now give medical device manufacturers ready access to implantable PEEK in the form of thin sheet and film from ASTM F2026-17 compliant resin, opening opportunities for new medical devices.
PEEK: Proven in Medical Devices
PEEK is well-accepted as a reliable, high-performance polymer for medical devices. The advanced thermoplastic has a long and successful history in non-implant applications. With the development of implant compliant grades, device manufacturers are now specifying the polymer for many different surgical implant applications.
Implantable PEEK applications include spinal cages and spacers for anterior and posterior lumbar interbody fusions (ALIF and PLIF). Fixation devices used in anterior and posterior cervical interbody fusions (ACIF and PCIF) and disc height restoration also number among the uses of PEEK in surgical implants.
Typically, these components are made by injection molding the PEEK resin, or by converting it into stock shapes that are then machined into various configurations.
New Product Opportunities with Genesis Implantable PEEK Film
The development of Genesis PEEK film and thin sheet gives medical device manufacturers a material form that opens new product opportunities. The film can be precision cut, stripped, or stamped and fabricated into intricate components. This opens the potential for use in bio-electronic and cardiovascular implant device components used in defibrillators and pacemakers.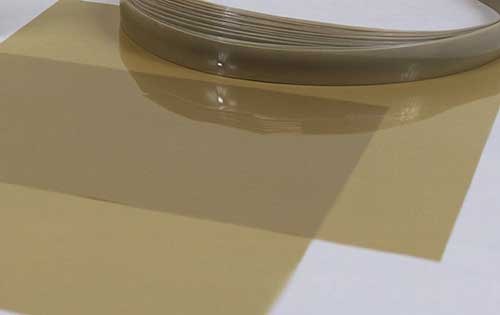 Performance Attributes of PEEK and Genesis Implantable PEEK Film
Genesis PEEK film intrinsically has the performance characteristics of the implant grade PEEK polymer from which it is calendered. These include:
Biocompatibility and biostability
Implantable PEEK is inert in contact with body fluids.  Its high purity makes it a reliable material for cardiac implants and other implantable components intended to function for many years.
Flexural strength and fatigue resistance
Materials used for cardiovascular devices must maintain integrity under constant flexing or movement exerted by the heart's beating. PEEK has exceptional resistance to "fatigue" from repeated dynamic forces greater than those routinely encountered in the body.
Sterilization compatibility and longevity
Characteristic of PEEK in general, Genesis implantable PEEK film is compatible with all common methods of sterilization, including steam autoclaving, ethylene oxide gas, vaporized hydrogen peroxide and high-energy gamma radiation. In fact, PEEK's resistance to chemicals and its ability to withstand repeated sterilization cycles is unsurpassed among medical grade plastics.
Unlike titanium or metallic alloys, Genesis PEEK film is fully radiolucent, a characteristic of all natural or unmodified PEEK resin including the implant grade from which it is calendered. As a result, components made from  Genesis PEEK film allow  post-operative imaging studies free from artifacts. 
Ductility and stability for precision fabrication
Genesis PEEK film has the strength and ductility that facilitates fabrication of small precision components used in bio-electronic and other implantable medical devices. The low inherent stress levels in Genesis PEEK film and thin sheet translates to fabricated components that maintain their dimensions.  
Genesis Implantable PEEK Film Standards Compliance
Genesis implantable PEEK film and thin sheet complies with ASTM F 2026-17 requirements for surgical implant applications. Our medical grade plastics conversion facility includes our calendering, shapes extrusion and injection molding operations. The facility's quality management system is ISO 13485:2016 certified to support our medical device customers' ability to bring products to market.
The implant grade PEEK resin used to produce Genesis Implantable PEEK film is compliant with ASTM F2026-17 requirements for mechanical properties and biocompatibility. The resin manufacturer is ISO 13485:2016 certified and adheres to current Good Manufacturing Practices (cGMP).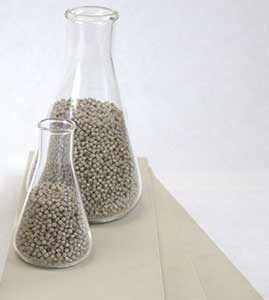 Calendering Engineered for a Purpose
Calendering has been an established process for converting plastics for decades. Genesis has developed technology focused on producing implantable PEEK film and thin sheet to serve customers seeking these materials as readily available standard products from a qualified medical plastics supplier. Genesis will also provide customers with implant PEEK film or thin sheet made from other resin manufacturers' materials, such as Invibio, Solvay's Zeniva and Evonik's Vestakeep implant PEEK resins on a custom basis.
Technology for consistent PEEK film quality
PEEK, as an ultra high-performance polymer,  poses far greater processing challenges in calendering than traditional plastics. With a significantly higher melt temperature profile, processing must be precisely monitored and maintained to preserve the advanced polymer's  properties. This is especially important to ensure the resilience and toughness of thin sheet and film during fabrication and in use.
Genesis process technology achieves this, yielding implantable PEEK film with the consistent quality and physical properties necessary for both manufacturing of components and their reliable use in surgical implants.
Production size range tuned to efficient fabrication
Genesis production equipment has been engineered to produce thin sheet and film in size formats ideal for fabricating small, intricate medical device components. This supports lean, efficient fabrication with maximum production yields and minimum material loss.
Genesis Implantable PEEK Film and Thin Sheet Sizes
Genesis' PEEK calendering process yields film and thin sheet in a versatile range of gauges, all with a high degree of consistency.
254 mm (0.010-inch)
508 mm (0.020-inch)
762 mm (0.030-inch)
106 mm (0.040-inch)
The versatility of the Genesis calendering process allows the production of custom gauges. While thicknesses from 0.125 mm (0.005-inch) to 1.106 mm (0.040-inch) are standard, Genesis will work with device manufacturers on custom gauges with reasonable minimum run requirements.
Standard and custom lengths and widths:
Standard production width for Genesis implantable PEEK film and thin sheet is 100mm. Custom slit widths are readily available. Custom lengths can be calendered to order, with reasonable minimum quantities required for specific gauges.