Plastics for Implantable Medical Devices
Genesis' semi-finished shapes and parts production capabilities for implantable PEEK and other biocompatible plastics are backed by our ISO 13485:2016 and ISO 9001:2015 certification and FDA registration as a device manufacturing facility.
Implantable medical devices are generally defined as biocompatible devices that are introduced into the body by surgery or other clinical procedures to serve a function for 30 days or longer.
The length of time these devices remain implanted in the body can vary significantly. For example, bone, muscle and joint fusion hardware and artificial joints have long-term functionality. Bioelectronic devices such as cardioverter defibrillators (ICDs) and pacemakers also serve long-term medical needs. By comparison, vascular access devices that deliver treatments like chemotherapy are implanted for relatively shorter periods.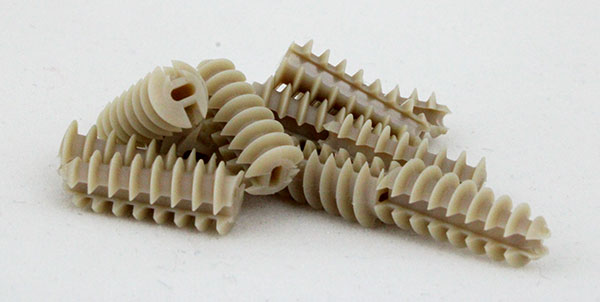 Biocompatible Plastics and Genesis Conversion Processes
Each type of implantable device has specific performance requirements that define candidate materials for possible specification. Genesis' expertise focuses on biocompatible grades of PEEK and other polymers that offer various levels of strength, rigidity, dimensional stability and radio-translucency based on the implantable device's function.
An important consideration in the development of a device is whether the specified polymer can be processed in ways that meet growing production demand and facilitate design modifications as needed over the product's life cycle.  Genesis has invested in versatile conversion processes that span life cycle requirements, from prototyping through high volume production. Coupled with our ISO and FDA compliance and certifications, these capabilities provide customers the support needed to bring new implantable devices to market:
Transforms implantable polymers into rods and plates for machining.
Custom sizes optimize machining and materials efficiency.
Often best for low to mid-range finished part quantities.
Achieves complex designs beyond limitations of injection molding.
Quick turn-around on prototypes and design changes.
Ideal for high production quantities of precision parts.
Low production cost per part and lean materials usage typically offset tooling costs.
Converts biocompatible PEEK into film and thin sheet.
Ideal for fabricating intricate parts for implantable bioelectronic devices.
FDA registration as a device manufacturing facility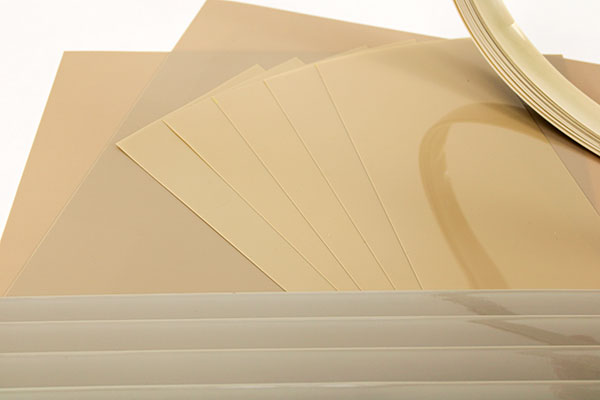 Rigid, High-strength Biocompatible Plastics
Significant advances in polymer processing, production and quality management have opened the advantages of a select group of high-performance polymers to medical device designers.
Among these polymers, PEEK is by far the most prominent, and has gained exceptional industry recognition and acceptance. Its combination of biocompatibility, regulatory compliance and physical properties have led to its specification as the ideal material for numerous implantable medical devices. The growing list of biocompatible PEEK applications under development and in production includes spinal implants, cardiovascular devices, trauma fixation and orthopedic devices and dental implants.
Specific grades of other polymers have also been developed with the biocompatibility and physical properties that implantable devices require. These include implantable grades of PPSU (polyphenylsulfone) and PSU (polysulfone). Like PEEK, they offer performance and production advantages for use in medical devices over metals, ceramics and other traditional materials.
Implantable PEEK (polyetheretherketone)
PEEK resin producers have invested heavily in the specialized production and quality management systems required for the polymer's use in implantable devices. Their decades of work have led to a number of applications specified in biocompatible PEEK, and its evaluation for many new product development projects.
Genesis has also stepped up to investing in state-of-the-art production and quality management systems for converting our customers' biocompatible PEEK and proprietary resin formulations into shapes, film and precision parts. In addition, Genesis offers machinable semi-finished shapes, thin sheet and film for implantable devices under the Genesis PEEK brand.
Several notable attributes of biocompatible PEEK contribute to its use in a growing list of applications: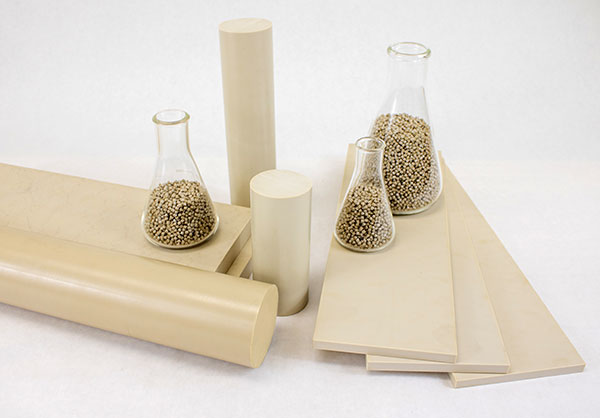 Implantable PEEK grades satisfy the industry's most stringent biocompatibility testing protocols. Testing is done in accordance with standards set by the FDA and other global regulatory agencies.
Extensive analyses have been conducted and in all cases the results have been positive. Decades of patient studies on patients with implanted devices made of biocompatible PEEK also confirm their efficacy and safety.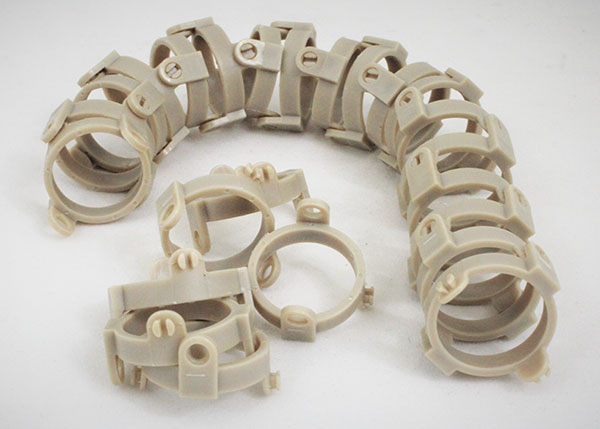 Flexural modulus simulating cortical bone:
PEEK's flexural modulus or rigidity simulates that of natural cortical bone. When implanted, PEEK shares the physical load placed upon it with nearby native bone, rather than fully bearing the load as metals like titanium tend to do.  The stress-sharing behavior is beneficial to facilitate osseointegration and bone healing, similar to how, in general, exercise contributes to muscle strength and atrophy prevention.
The benefit of PEEK's bone-like modulus has led to its specification for spinal cages and spacers, where its load-sharing properties promote health of neighboring bone.
Sterilization resistance:
All PEEK grades share an inherent resistance to degradation after numerous cycles in conventional sterilization methods including steam, ethylene oxide and gamma radiation.
PEEK with no additives is fully radiolucent in most forms of medical imaging, including MRI, X-rays and CT scans. As a result, biocompatible PEEK will not interfere with post-surgical imaging and assessment of implanted devices.
Performance modifications:
Similar to most polymers, many additives can be blended into PEEK resin that augment specific physical properties without affecting biocompatibility. Formulations available with these additives integrated into the PEEK polymer for use in implantable medical devices include:
Carbon fiber reinforcement:
When compounded into PEEK resin, these fibers boost its structural strength, a benefit for load-bearing devices used in trauma fixation and orthopedic devices.
This additive increases the radiopacity of the PEEK blend. The resultant shadowing or contrast it creates during imaging allows surgical teams to monitor an implanted device's position and detect potential complications in the early stages of healing.
Implantable PEEK resin suppliers
Global PEEK producers have responded to the medical field's recognition of the polymer for its benefits over metals and other traditional materials used in implantable devices. Major suppliers and brands include:
Invibio Biomaterial Solutions: PEEK – OPTIMA™
Solvay: Zeniva® PEEK
Evonik: VESTAKEEP® PEEK
Implantable PPSU (polyphenylsulfone) and PSU (polysulfone)
More recent additions to the field of rigid biocompatible plastics are PSU and PPSU. Both materials have a long history in high technology industry applications including non-implantable medical products.
Solvay has developed biocompatible grades of these polymers with brand designations that identify them for use in implantable medical devices. Both are produced in ISO 13485 and cGMP-compliant facilities, and tested in ISO 9001-certified and ISO 17025-accredited laboratories.
Eviva® PSU is an amorphous polymer with high strength, dimensional stability and compatibility with bodily fluids. It is available as a transparent material or in opaque white. Eviva PSU has been used in access port implantation devices, and has an extensive number of cardiovascular, neurovascular, drug delivery and dental applications. Its transparency, flexibility and light weight properties are suitable for low-profile components for optimized, low-risk vascular or injection access.
Among the polymer's attributes for medical devices are:
Biocompatibility
Sterilizable in steam, ethylene oxide, and e-beam radiation
Artifact-free for non-interference with MRI imaging
Veriva® PPSU (polyphenylsulfone)
Another member of the polysulfone family of polymers, Veriva PPSU has higher impact strength and temperature resistance than PSU. The transparent, amorphous thermoplastic also has greater resistance to high-temperature steam, ethylene oxide and high-energy gamma radiation sterilization methods. Its biocompatibility, insulation properties and chemical resistance surpass rival commercial materials as an option for wire and lead coatings. Veriva PPSU is also a candidate for valves and shunts where its strength and durability can withstand any level of pressure related to the devices in use.
Notable performance features related to implantable devices include:
Biocompatibility
Highly resistant to all common sterilization methods
Insulative as a wire and lead coating material
Exceptional strength and toughness
The advantages of plastics over traditional materials and the performance enhancements possible with additives are likely to drive development of more biocompatible polymers for a wider range of implantable medical device applications.
Genesis is fully committed to continue investing in the quality and production systems to convert these materials into the biocompatible products our customers require. Part of that commitment includes developing the process technology necessary to transform next-generation materials into semi-finished shapes and components that make beneficial new implantable medical devices possible.